"REVIVE"
The series "REVIVE" is based on the records of daily life and meals before and after stomach surgery in 2019. It features two images of before and after the meal, arranged together in one painting. Photos of every breakfast, lunch and supper were taken during hospitalisation before and after the surgery. Then I have processed the photos into mosaics, extracted colours from them, and faithfully painted dots with it. Diptych style of painting and palette in 2020, and triptych style of three types of painting are adopted in 2021.
* Refer to | 2020-21 WORKs | for more information about the "diptych" works.
Strictly speaking, I do not want the viewers to understand what is depicted, but I chose the motif from the streets and landscapes I actually walked and the actual experiences of mine, in order to show "what depicted is something that is in close contact with the artist's real life (= world = landscape)". It has been a consistent theme since around 2014.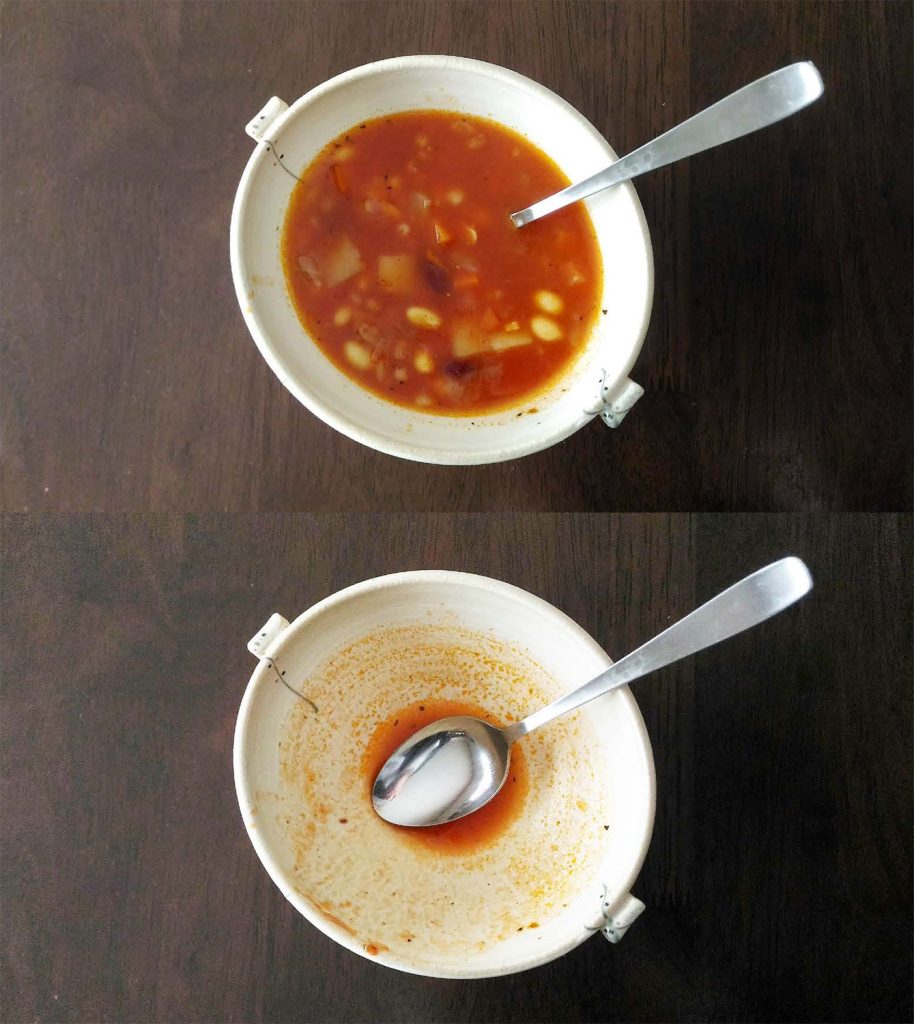 2019年に受けた胃の手術前後の日常と食事の記録を基にしたシリーズ、"REVIVE"。手術前後の入院中に、病院食を朝昼晩と撮影し、その食べる前・食べた後の画像を並列させ描いた作品をメインとしています。記録写真をモザイクに加工し、色を抜き出し、忠実に絵の具でドットを描いていくという手法をとっています。2020年はドットのペインティングとパレットのディプティック(二連作)、2021年は3要素のトリプティク(三連作)になります。
※ディプティク・シリーズは別ページ参照: |2020-21 WORKs|
厳密には「描かれたもの」を観賞者に理解してほしいわけではなく、「そこに描かれるものは作者のリアルと密接に触れている事柄(=世界=風景)である」ということを示すためのモチーフを、わたし自身が歩いた街や風景、経験したことから選択している。これは2014年ごろから一貫したテーマです。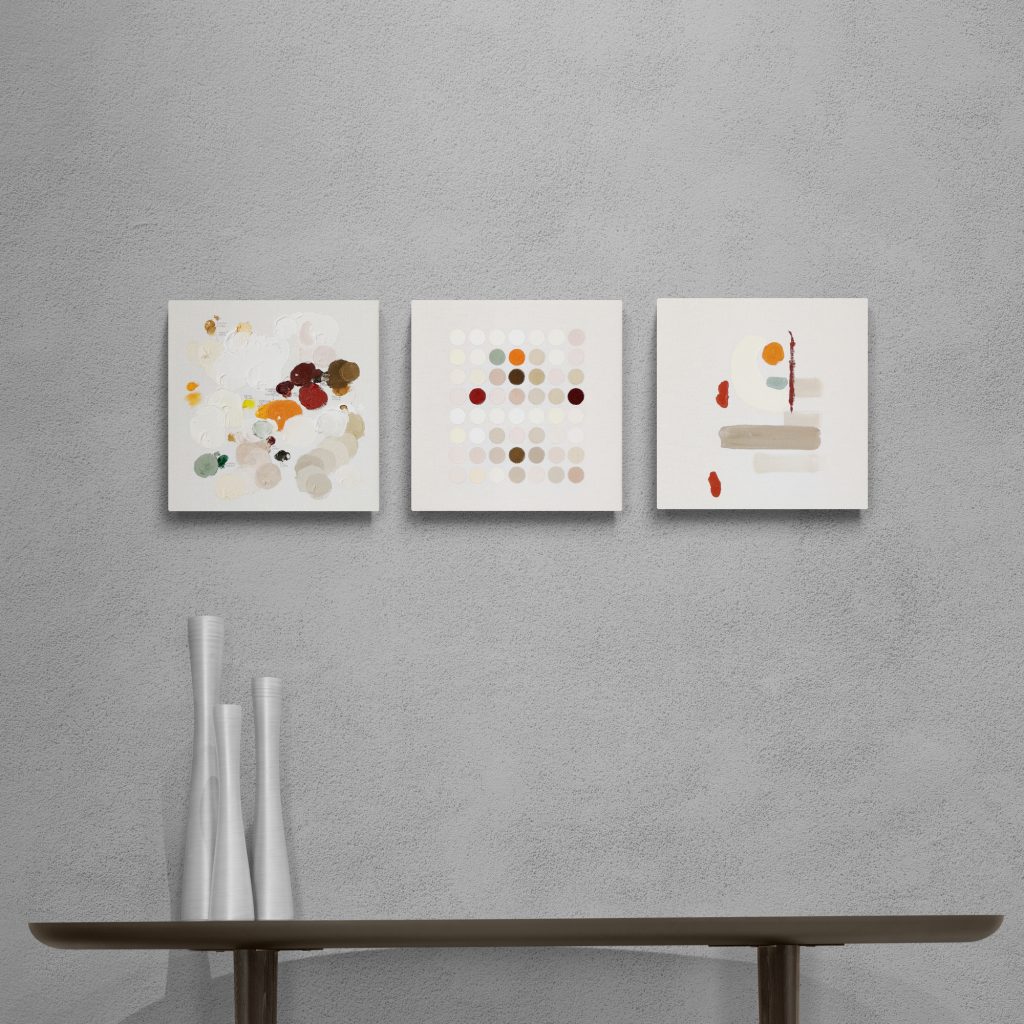 In my creating process, the recorded photos of the scenery are digitally and automatically processed into mosaic. Then I try to reproduce the colour faithfully with analogue using paints. This is the work that comes to the centre. I use another canvas as a palette to mix and create colours for painting. This creates an unconscious, innocent body of work of "mixing colour", and another pure body of work of "painting colour". The third one is produced to see if we can redefine the word "depict", while focusing on the single aspect as extracting colour from the landscape, and it ends up forming a triptych.
I try disassembling the elements and focusing on only simple ones, in a painting in which various elements are intertwined. In addition, I create a simple structure consisting of only cloth and paint to reexamine the fundamentals of painting. It's like a scientist/chemist pursuing something. It could be a fundamental research of art.
I think there is something that stands out when you leave out the superfluous elements, even your personal feelings. It may be the meaning and interest of landscape painting, personality and physicality of the artist.
I want people to be aware of the relationship between the cloth and the paint itself and the fun of it, apart from applying white foundation. What's conveyed is how the substances, as the main actors, be and appear, and the quiet words spun by them. And from there, the personality of the artist herself may come out.
The phenomenon is subtle. Because it's such subtle, I believe that I can create a time and space that elicits the viewer's sensitivity.
01/12/2022 MIKI WANIBUCHI
風景の記録写真をいちどデジタルで自動的にモザイク化し、それをアナログで忠実に色を再現しようと試みる。そこで塗るための色は別のキャンバスをパレット代わりにして作成する。そうすることで、色を作るという無意識的で純粋なひとつの作品(mix)が生まれる。色を塗るという無心なもうひとつの作品(paint)が生まれる。
さて、「風景から色を抽出する」という一要素だけに焦点をあてながら風景画(≒絵画)の意味を探るなかで、depict(描く、描写する)をもう一度定義できるだろうか?こうしてトリプティク(三連作)を制作しています。
絵画の要素を分解し極限までシンプルにすることで、その良さや意義のようなもの、つくった作者の身体性や存在が浮き彫りになると考えています。
白い下地材を塗ることからも離れ、布と絵の具そのものの関わりとその面白さに気づいてもらいたい。伝えるのは、主役である物質の在りかたと現れかた、その主役たちの紡ぐ静かな言葉。そしてそこから滲みでるのは作家本人の個性です。
現象は些細です。些細だからこそ、観賞者の感受性を引き出す時間と空間を創りだせるのだと信じて、制作をつづけます。
01/12/2022 わにぶちみき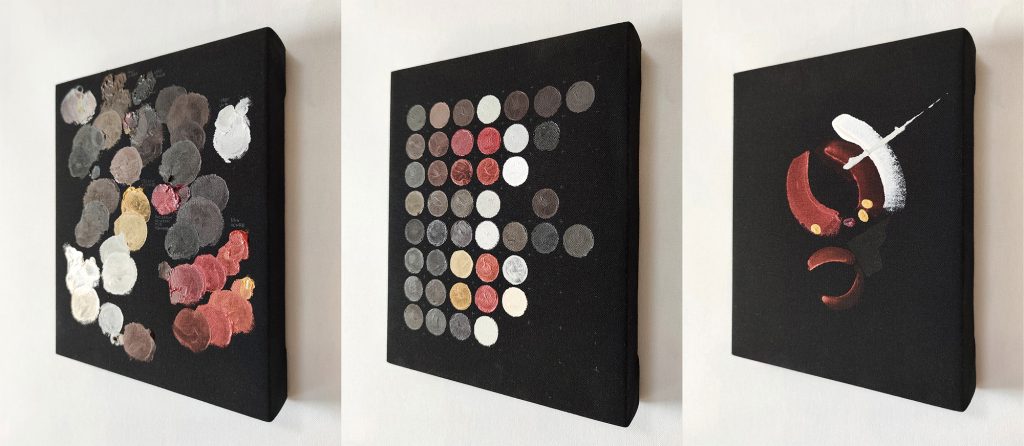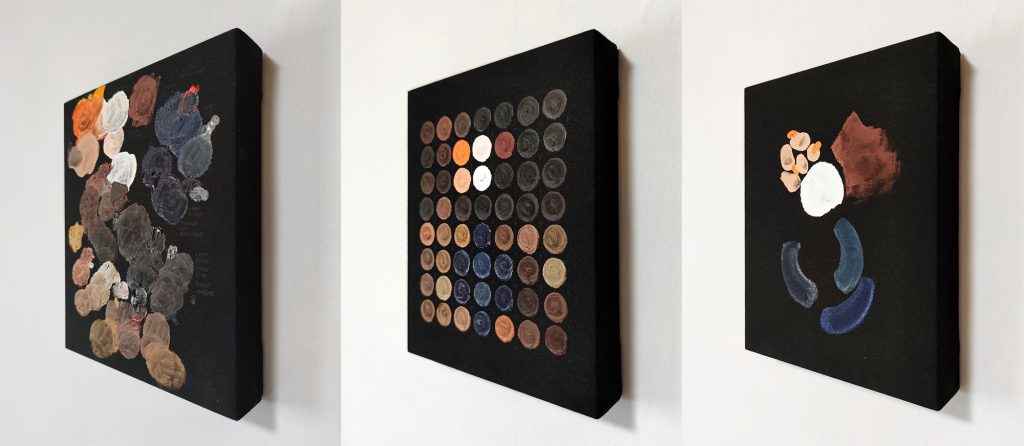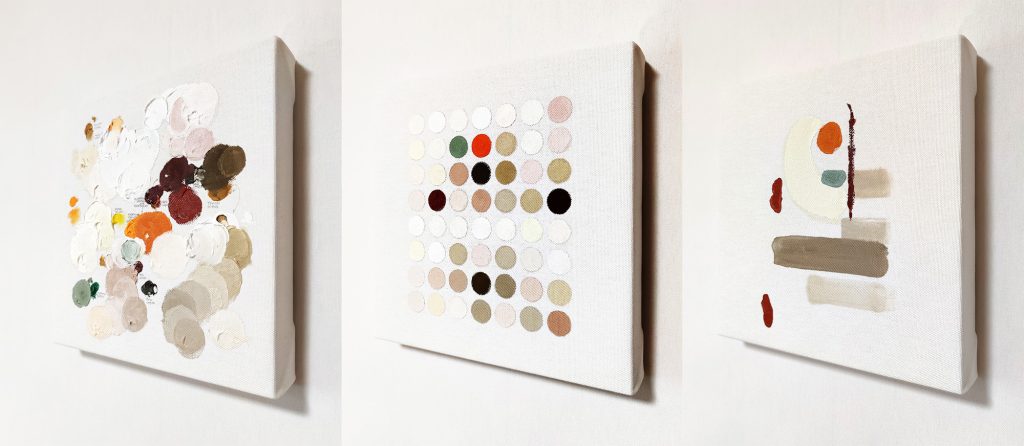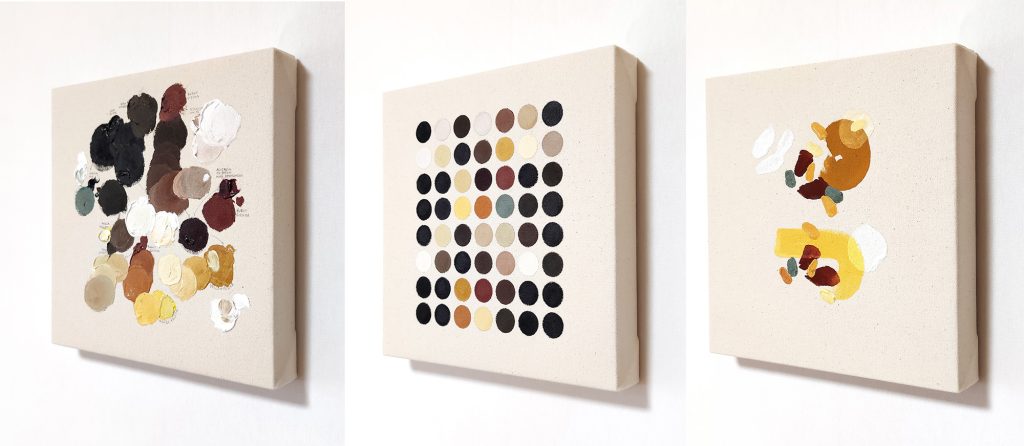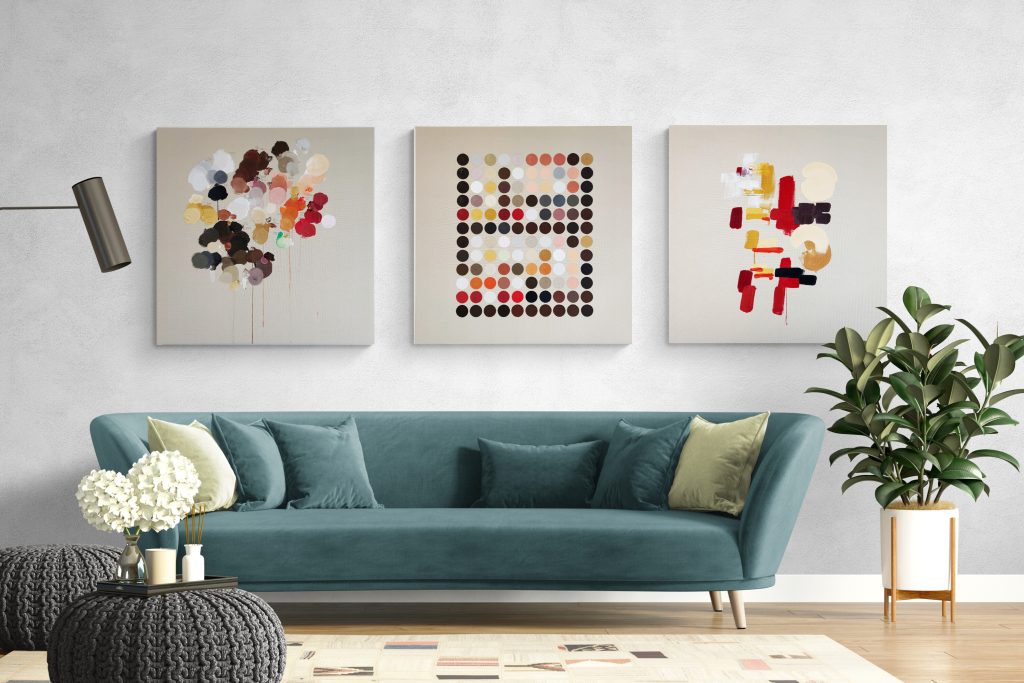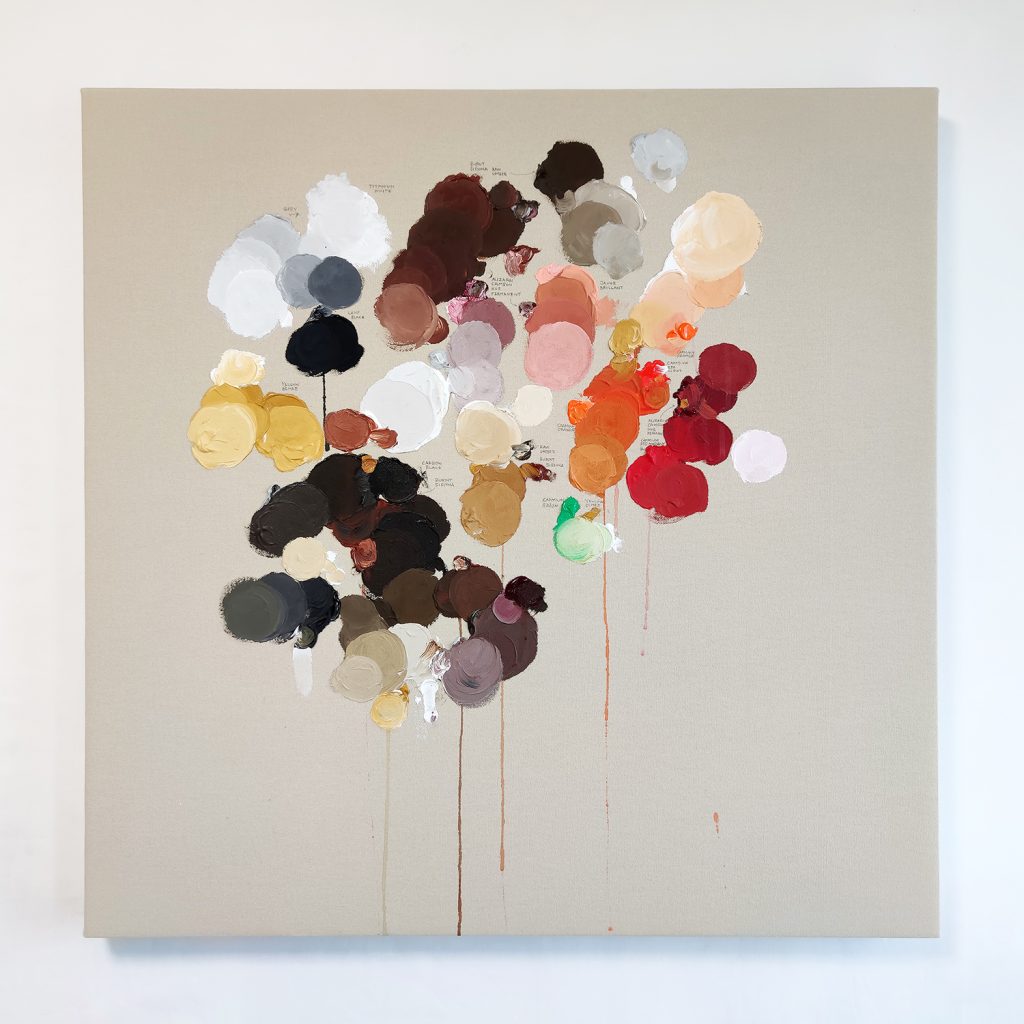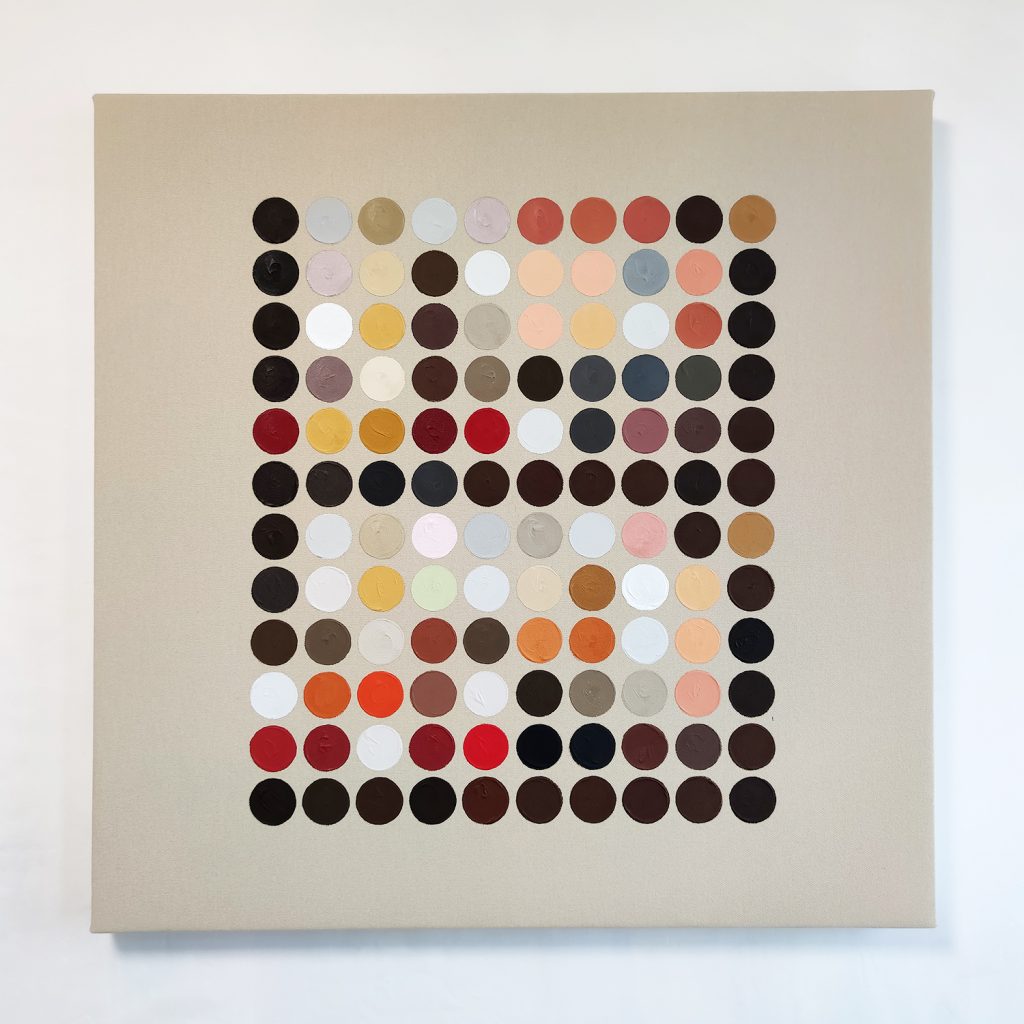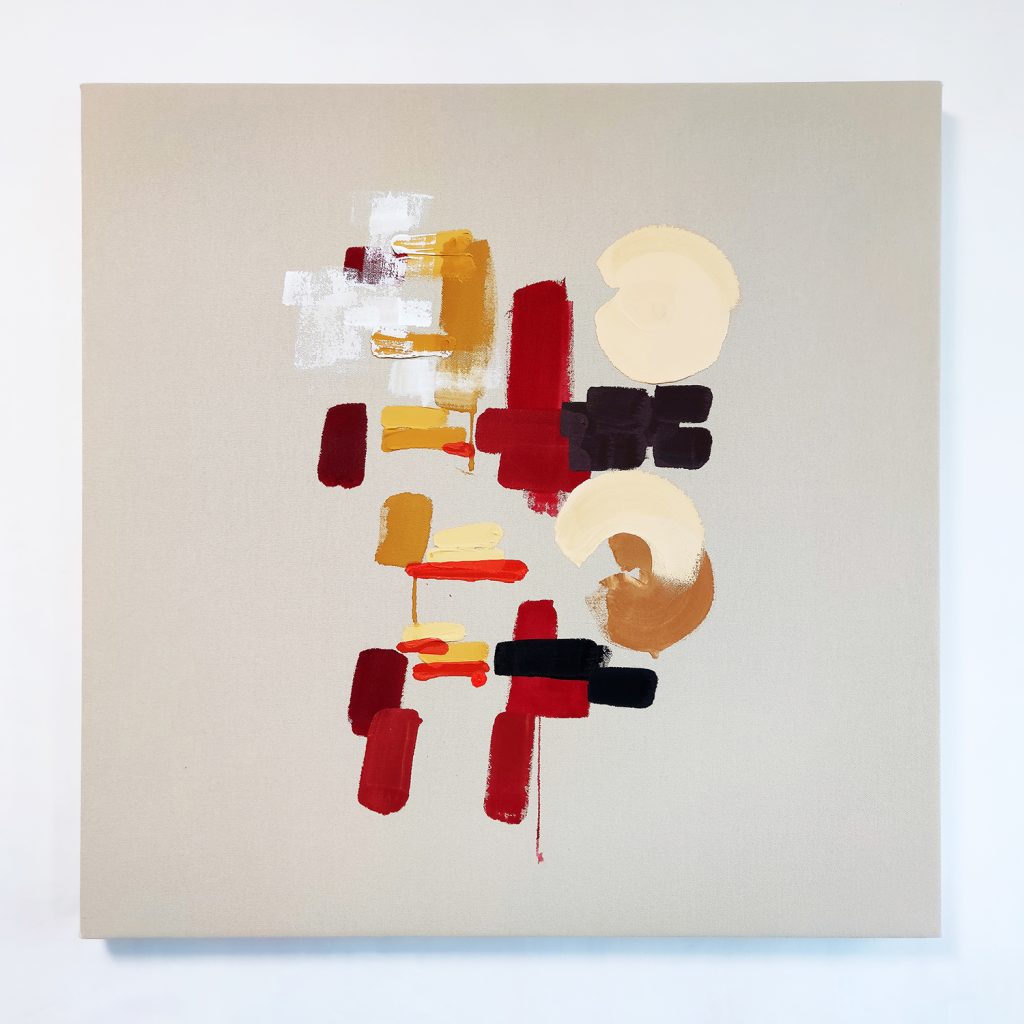 ---
"REVIVE" Usual Breakfast 08:44 15/11/2019 (mix) (paint) (depict) / 22×27.5x4cm triptych / 2021
"REVIVE" Usual Lunch 13:44 13/11/2019 (mix) (paint) (depict) / 22×27.5x4cm triptych / 2021
"REVIVE" Farewell Dinner 20:06 21/01/2020 (mix) (paint) (depict) / 27.5×27.5x4cm triptych / 2022
"REVIVE" Usual Dinner 19:49 15/11/2019 (mix) (paint) (depict) / 27.5×27.5x4cm triptych / 2022
"REVIVE" Relieved Outside 12:39 29/11/2019 (mix) / 80x80x5cm triptych / 2022
"REVIVE" Relieved Outside 12:39 29/11/2019 (paint) / 80x80x5cm triptych / 2022
"REVIVE" Relieved Outside 12:39 29/11/2019 (depict) / 80x80x5cm triptych / 2022
---