Uzurano Airfield Remains Art Project "[ HANAMUKE / TAMUKE ]"
12 – 13 December 2020, "Uzurano Airfield Remains Art Project vol.2", The ruins of machine gun seat & bomb bay, Kasai-city Hyogo
I was invited to exhibit at the Uzurano Airfield Remains Art Project. I made a pair of artworks, [HANAMUKE] using the ruins of machine gun seat and [TAMUKE] using the ruins of bomb storage. It was an installation which focuses on the thoughts of those who are left behind, who may have seen off their fathers, sons, brothers, husbands, lovers, and friends on their way to the battlefield.
I asked a trumpeter and dancer to perform an improvisation inspired by the history of the place and the artwork. It was a series of artwork that hopes to create a dialogue between the history and story of this place and the people who visit here or who didn't know about it, using artworks and performances as medium.
[HANAMUKE] was created with feelings like "I want to stop him to go" or "I want to finish the war", and recreated the machine gun which used to be set up here based on historical materials. By wrapping it with a white cloth like a bandage, I tried expressing "to hold them back", or feelings of never using it again. [TAMUKE] was created with sands (powder) coloured in cherry blossoms, which I got inspired by the cherry tree planted next to the storage and by the keyword of bombs. It was regarded as an altar of sorts to see them off, and to reflect on their history.
13/12/2020 Miki Wanibuchi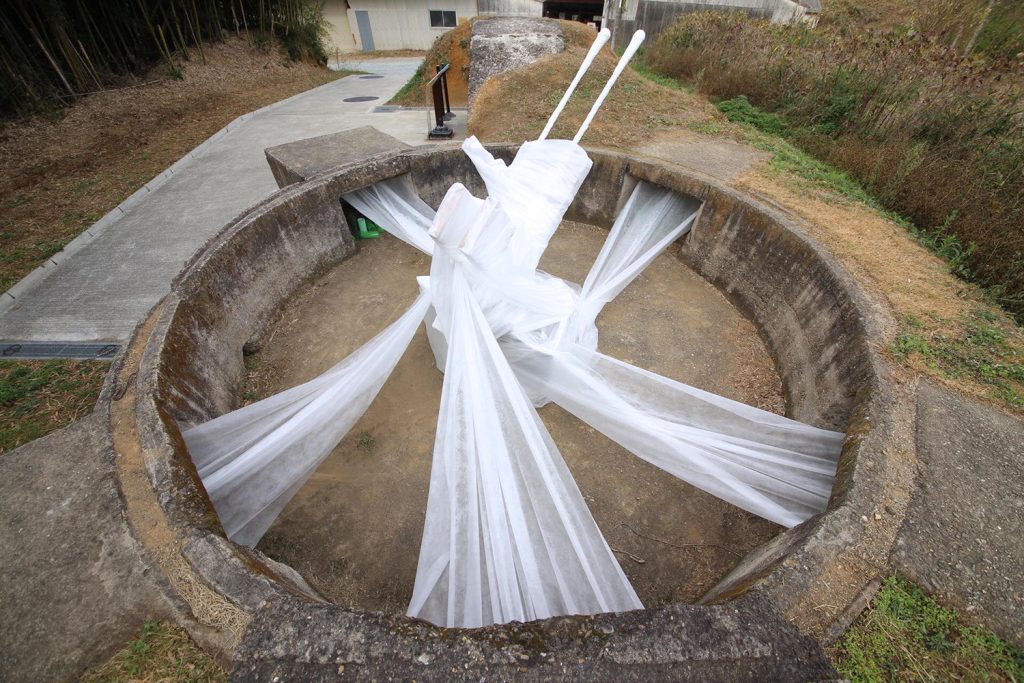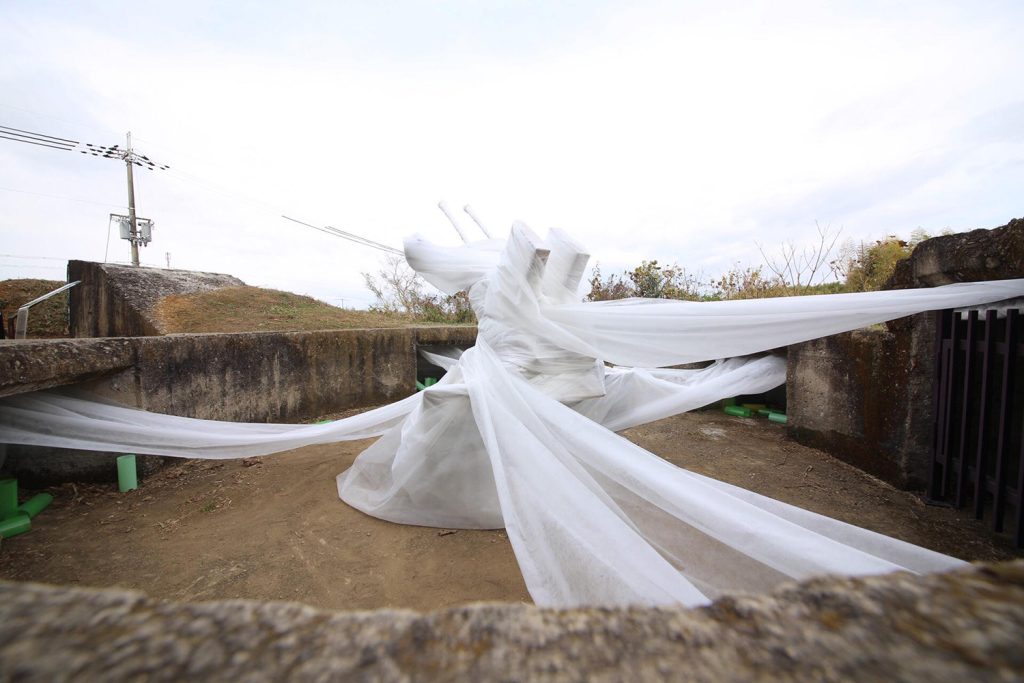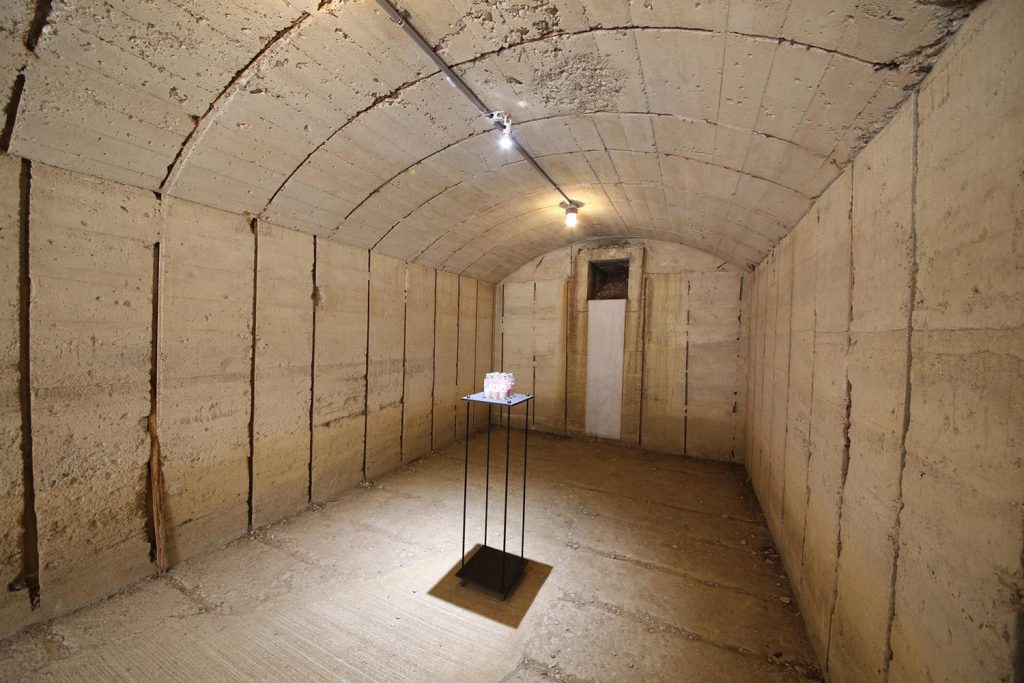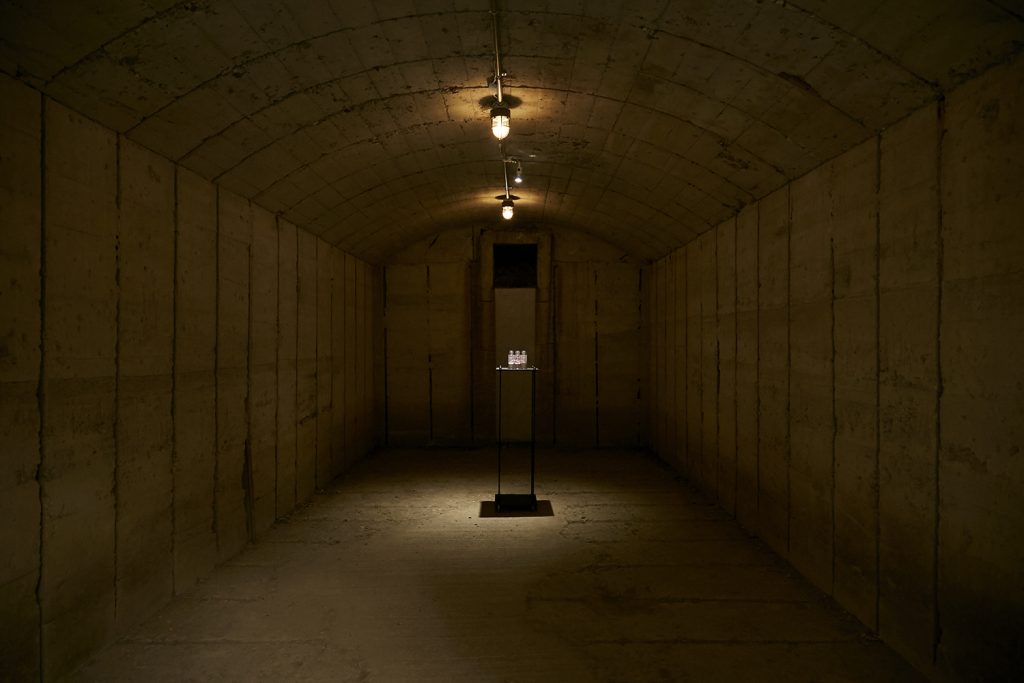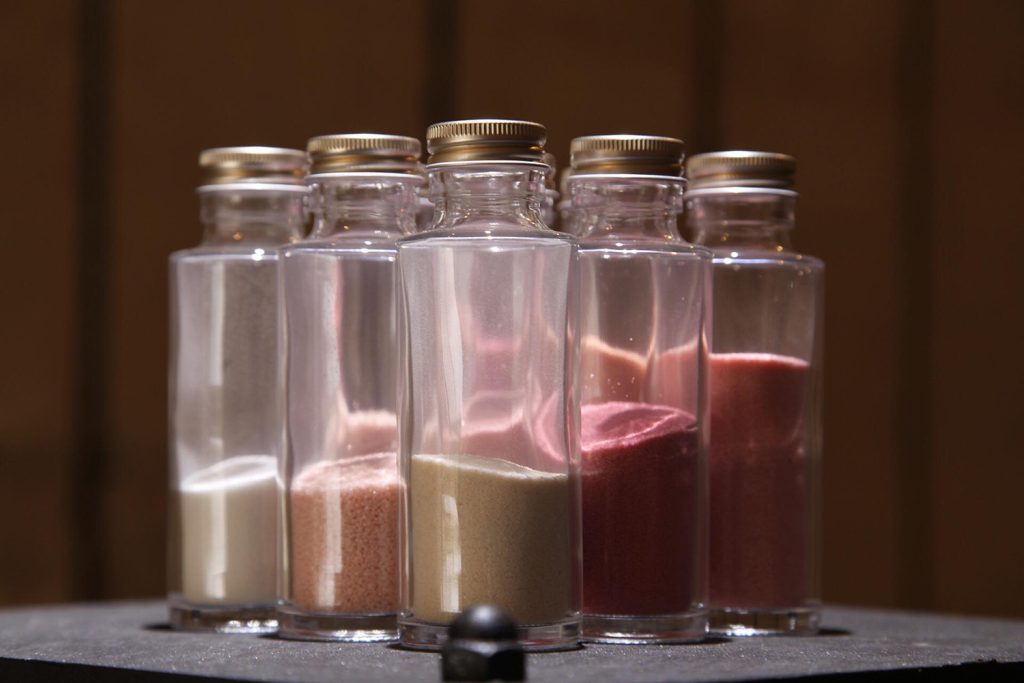 鶉野飛行場跡アートプロジェクトに招聘され、展示場所として用意された対空機銃座跡の作品を[はなむけ]、爆弾庫跡の作品を[たむけ]とし、対となる作品を制作した。戦地へ向かう父親や息子、兄弟、夫や恋人、友人を見送ったであろう残された人々の想いに焦点をあてて表現したインスタレーション作品です。
また、トランペット奏者とダンサーをお迎えして、この場所の歴史と作品から得たインスピレーションによる即興パフォーマンスをお願いしました。アート作品とパフォーマンスを媒体として、場所の歴史や物語と、ここを訪れる人やこの場所を知らなかった人との対話の機会を生むことができればと考えた一連のアートワーク。
[はなむけ]は、「引き留めたい」「終わらせたい」のような感情を汲み、ここに設置されていた機銃を過去の資料などから再現するかたちで制作。包帯のような白い布でそれを包み、引き留める、または二度と使わない、といった心情を表します。[たむけ]は、爆弾庫跡に戦後植えられた桜の木からインスパイアされ、爆弾庫というキーワードから桜の色の砂(粉)を用いた作品を制作しました。この空間をある種の祭壇と見立て、"彼ら"を見送る場所、その歴史に思いを馳せる場所とした作品です。
13/12/2020 わにぶちみき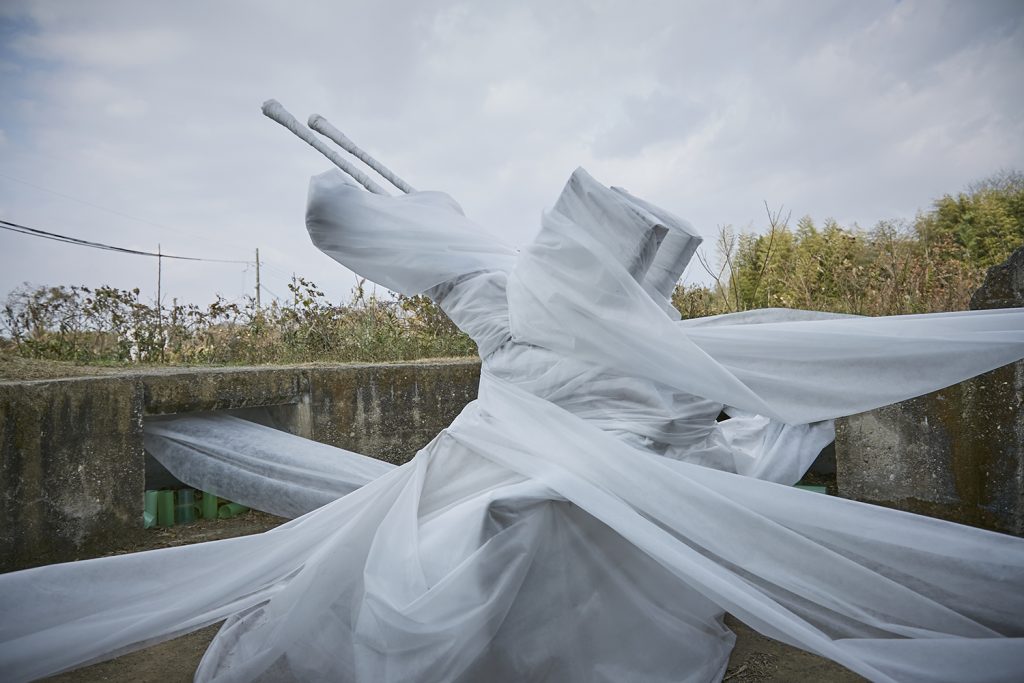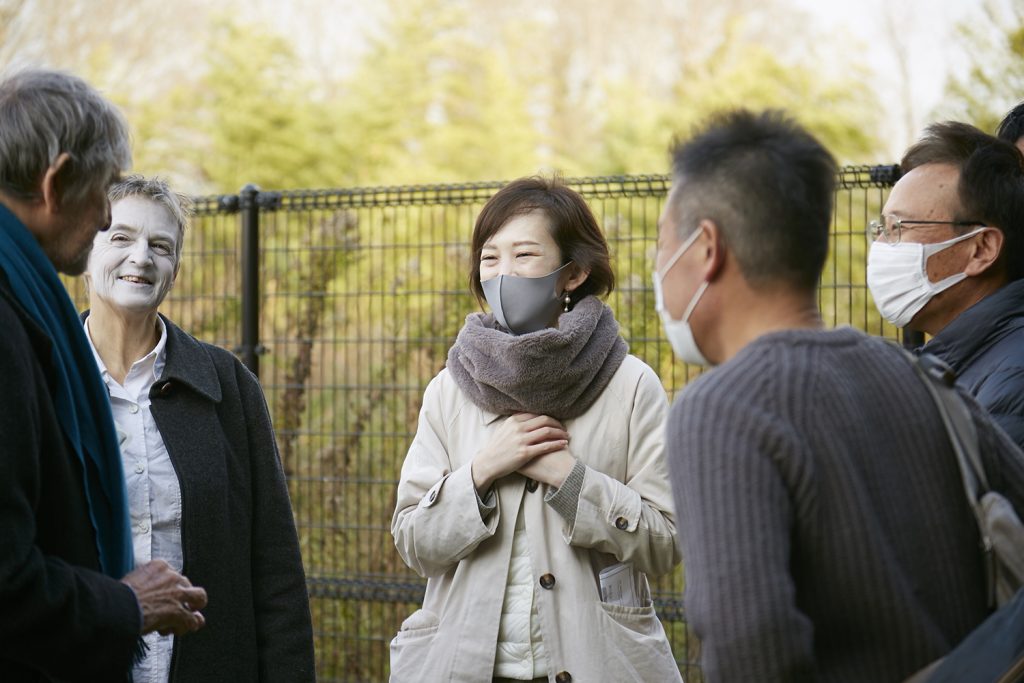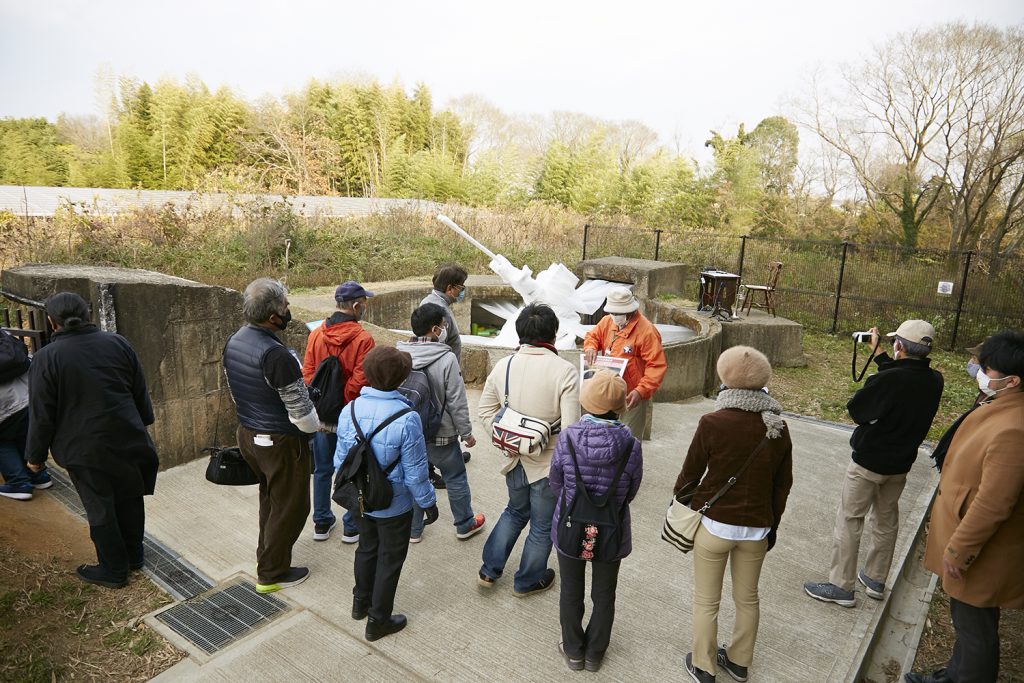 I expressed a huge thanks to those who took part in our performances and tours on 12th and 13rd December. There were more people coming than I expected and our artwork, including the performances, could make a big impact on those who witnessed it I believe.
We had some conversations with people, and I felt they seemed to receive a lot from the site with our artwork. This could be the success that we made them remember and think about the history and story about the war.
The core concept was a little heavy, however, we thought art could do more about connecting people to place, history and the others.
It was a precious days sharing this beautiful time here at the site or beyond the screen while live streaming. And I would like to express my gratitude again to my dear trumpeter and dancer, and to all who supported us for this meaningful opportunity.
ボランティアガイドの方やお子様たち、アート目的ではない偶然立ち寄られた方など、さまざまな方に良い意味でおおきな衝撃をあたえることができた展示でした。加西市職員の方や未来プロジェクトメンバーの方々ともお話させていただきましたが、鶉野という場所や戦争についての歴史や物語をつたえる、また別の側面(方法)の可能性に気づくことができた機会となったように思います。
掘り下げれば、プロジェクトのコアにはとても重く深いコンセプトがありますが、アートは、もっともっと人と場所、人と歴史、人と人をつなぐ役割を担うことができるのではないかなと感じました。
この短くも美しい時間をここで、ライブ配信をしたスクリーンの向こうで、共有してくださったみなさまがいたこと、親愛なるトランペッターとダンサー、そしてこの意味のある挑戦に力を貸してくださったみなさまに感謝しました。

"鶉野飛行場跡アートプロジェクト" 第2弾
爆弾庫跡・対空機銃座跡/兵庫・加西市
---
人と人、人と場所、場所と記憶。

今回の展示作家わにぶちみきは、
自身の作品を、
厳密にいえばその接点でしかないと考えている。

こちらとあちらを繋ぎ、
あちらを"理解"しようと
一歩を踏み出させるトリガーとなる、
「接点としての」作品をつくりつづけている。


わにぶちみき
---
[ HANAMUKE / TAMUKE ] [はなむけたむけ] / Size variable / 2020
Artwork and Direction : Miki Wanibuchi
Music : Christopher Fryman
Dancer : Bridget Scott
Shooting : Shusaku Jo, Chris Sampedro, Atsuko Maehata
Video Editing : Kotaro Ohara
Organizer : Kasai City Tourism and Town Development Association
Manager: NPO J-heritage
Coordinator : NPO Geiho
Support : Satake Stonemason Ltd.
---