Latent Subject Matter|潜在する主題
"Colours of the sky and the smell of the air", this is the concept of my art work.
The sky, the horizon or even the air always reminds me of some memories, which I am not sure if I really experienced before. Those memories might come from the scenery I have seen in the past, or might be engraved in my DNA from long time ago. Though I wish to know what it is, I often look up the sky only projecting my heart onto it. I paint on canvases because I believe that the same scenery I was moved will affect other viewers' memory. The colour which I saw is synthesised in my eyes, what colour do you see in your eyes?
I will never touch the end of the sky which keeps expanding, however, I can turn my thoughts towards there. My colour will be kept spreading as long as the sky keeps broadening.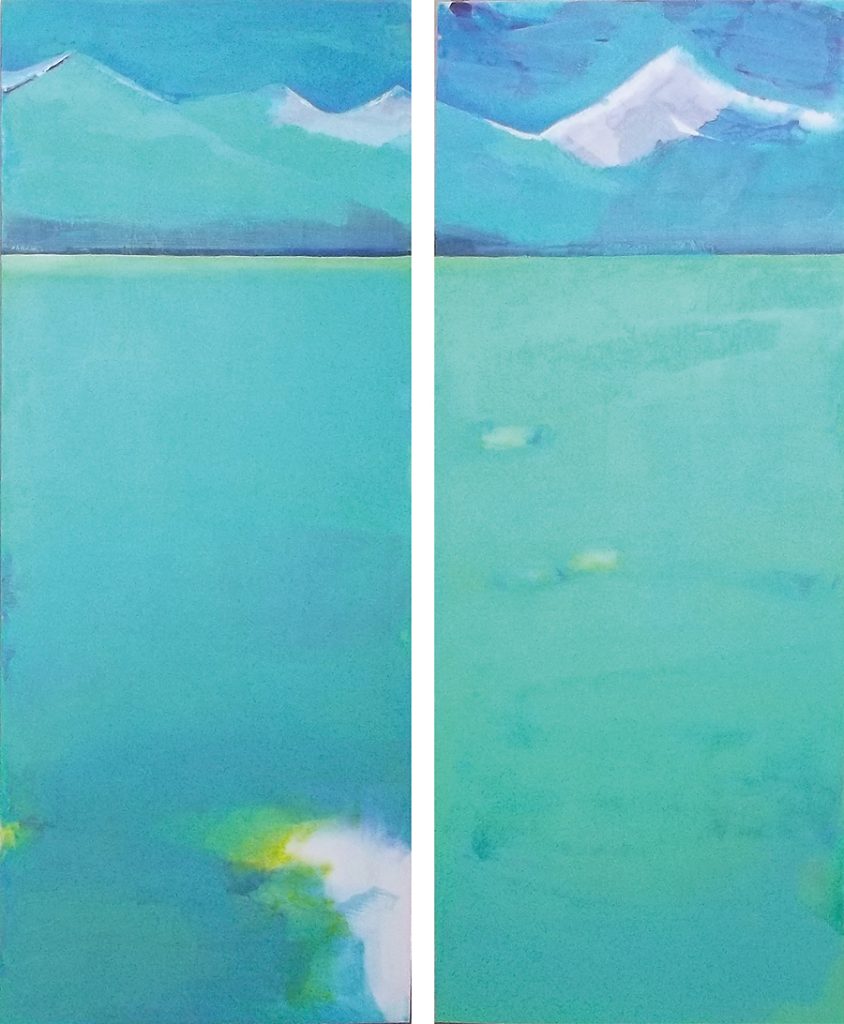 「そらの色 くうの匂い」
そらを見上げたり水平線を眺めたり自然を見つけるといつも、知らない気持ちが溢れます。過去に見た景色なのか、とおい昔から私のDNAに刻まれているのか、何にしろ私自身は知らない懐かしさが鼻孔をくすぐるのです。それが何なのか知りたくもありますが、ただ感じるままに心の色をそらに投影していたい。そして、同じこの景色を前に、観る人の心にも作用できたらとキャンバスに色をのばします。私の見たあの色はわたしの瞳の中で合成されたものですが、あなたの瞳のなかではどんな色に映るのでしょうか。
ひとつの線で切り取られたそら。水平線・地平線は言うに及びませんが、建物の縁で切り取られたそらにも心打たれます。それは、人工物の無機質な直線で分断されてなお、その背後に雄大なそらの存在を感じさせるからです。ちっぽけな私たちがどんな手を講じても、あのそらを押し止めることはできない。それは、水平線・地平線の彼方に手が届かないことと同義。そのことに気づいたとき、自分がひどくちっぽけな、ひと粒の砂くらいの存在に感じてしまいます。悲しいのではない。恐ろしいのでもない。こんな想いを、感じている人もいるのでしょうか。
未だに拡がりつづけるあのそらの、端っこに手は届くまい、けれど、想いなら馳せることができます。そらが拡がりつづける限り、私の色もひろがりつづけます。
---
The History Of Emerald / 120x50cm diptych
Oamaru / 14x36cm
A Pier In Brighton / 19×54.6cm
旅の終わり / The end of my trip / S50 triptych
その人の物語 / His story / F10
空を背負う / Shoulder the sky / F6
---
THE HISTORY of EMERALD

こびとになった気分で
ただただ
呆然と

畏れに目をそらせば
それでもつづく
水平線
空と海とを分けるのか


くもがゆき、
風がくる


手を
延ばすことさえ叶わない
あの境界では
空も海も立ち止まる


Miki Wanibuchi
---